How much does it cost to paint kitchen cabinets?
The national average cost to paint standard kitchen cabinets ranges from $1,200 to $7,000, with additional costs for better paint quality, cabinet design and size, and painting method all affecting the total cost of the project.
Looking to update your old kitchen cabinets? Rather than replacing them, an easier and more budget-friendly solution is to paint them. The following instructions are for painting wood or laminate cabinets.
Giving a a fresh touch up to your kitchen cabinets may seem like a fit-for-DIY job, but it's a time consuming and sometimes tricky project. Cabinets in rough shape usually require a primer and a few coats of paint, and hours (and material costs) can quickly add up. We'll breakdown what affects the cost of painting kitchen cabinets so you can weigh your options when it comes to doing a quick touch up yourself, or hiring a professional to overhaul the appearance of your kitchen cabinets.
What's in this cost guide?
How Size of your Kitchen Can Affects Cost to Paint Kitchen Cabinets
The square footage of the kitchen generally dictates the number of linear feet of cabinets that need to be painted. Some professional painters charge by the linear foot—anywhere from $30–$60—while others charge per cabinet box, door, drawer face, etc.
The size of your kitchen also affects material costs. The bigger the kitchen, the more paint you'll have to purchase, along with any additional drop cloths needed to cover the space.
How Cabinet Layout Affects Cost to Paint Kitchen Cabinets
The existing layout of a kitchen or other cabinetry can add complexity to a paint job. Tight angles, or cabinets installed in corners that have double-hinged doors and other constricted spaces can make it difficult for painters to get to cabinet doors or drawer faces to paint them without knocking against other surfaces. Some professional painters will charge extra in labor costs for tricky or tight layouts if they have to remove doors to paint them outside or in another location and reattach them later.
Cabinet Repainting
If you are looking to repaint a small to medium-size kitchen cabinet put in mind it can costs about $900. In some cases, it takes more time to prepare a client's existing kitchen cabinets to be painted than to actually do the cabinet painting. Preparation may include cleaning, sanding, patching and minor repairs—all of which adds to the overall cost. The cabinet painter also applies a primer coat to all surfaces to be painted. It's also recommends that cabinets get at least two coats of paint after the primer, especially when using water-based (acrylic or latex) paint.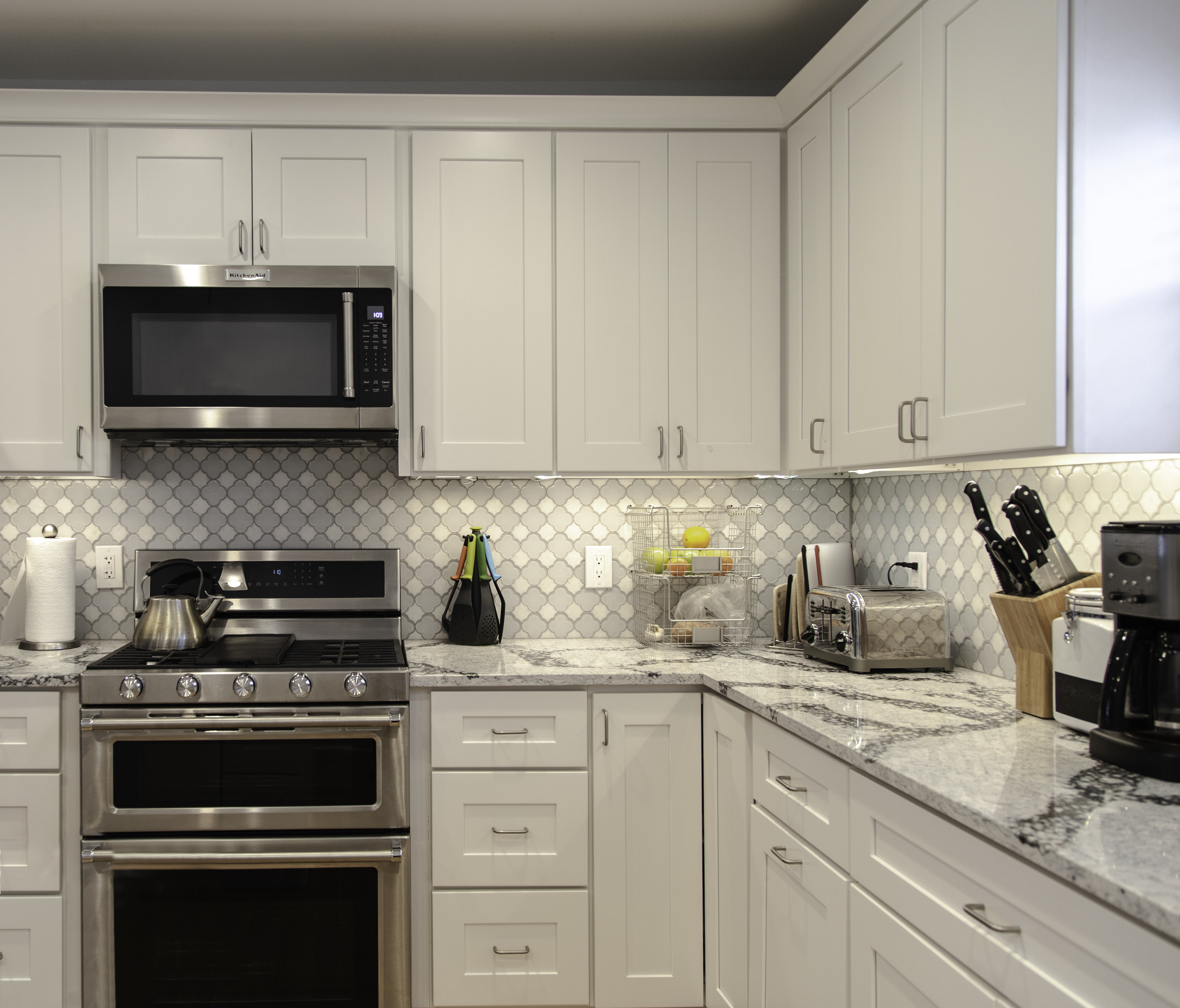 Our trusted kitchen cabinet remodelers can help you give a fresh touch up!
Cost to Spray Paint Kitchen Cabinets
Every states every cities differently for example some cabinet painters charges $38 per linear foot of cabinetry for spray painting cabinets. Spray painting method involves painting a client's cabinets in place rather than removing all hardware, cabinet doors and drawer faces. He also offers different refinishing options.  owner Gardner sprays in place, too, when he can, though it is sometimes necessary to remove some doors and drawer faces to apply primer and paint, especially in smaller kitchens with less room to maneuver.
Cost to Paint Kitchen Cabinet Doors
Removing and painting cabinet doors costs on average $2,000–$8,000 nationwide, depending on the size of the kitchen, the amount of detail work and the paint quality. If spraying in place is not an option, the professional painter will likely use a combination of a paint sprayer and a roller and will brush the cabinet boxes, removing doors and drawer faces and spraying them outdoors or in other space, such as a garage.
Paint Costs
Using higher-quality paint (or just a more expensive brand) for your painting project can add a few hundred dollars to the total cost. It's a good idea to consult with a professional painter about the wear and tear the kitchen cabinets will need to withstand before deciding on a higher-end paint. Most pros can then advise accordingly on the best finish and quality of paint.
How to Hire a Painter
Check the painter's experience: Painting cabinets requires a keen attention to detail, as well as experience removing cabinet doors or drawers without damaging the cabinet itself. For more tips on smart hiring, check out our safety page.
Ask about time: Ask potential painters to estimate how long the project will take so you have a good idea of what you're up for before you dive into the project. You may have to relocate furniture and other items ahead of time.
Ask about equipment: Ask if the pro is comfortable purchasing paint and other materials on their own, or if you're required to pick up some of those tasks.
Are you a Kitchen cabinet painter looking for more works?
Download the app and register for free.